#RESIST
Gear up and join farm workers and immigrants on the front lines of resistance at the Cesar Chavez march.
Grab your gear and join farm workers April 2nd in the #CesarChavez #Resist marches! Click here for a list of locations.
Click here to download your #RESIST, #WE FEED YOU march sign.
Apparel
Keep it real: Only authentic UFW apparel funds Cesar Chavez' UFW.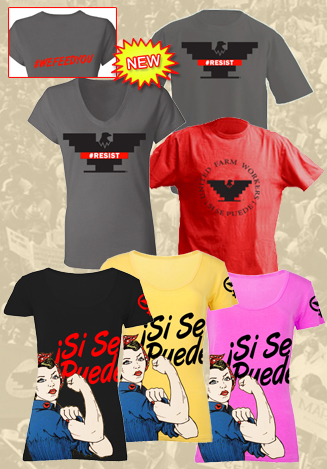 On the March
All the stuff you wish you'd had last time is right here, right now.
Bumperstickers
Road warriors: Demonstrate the art of stick-to-it-iveness with UFW bumper stickers.

Buttons and Patches
These buttons really click with people.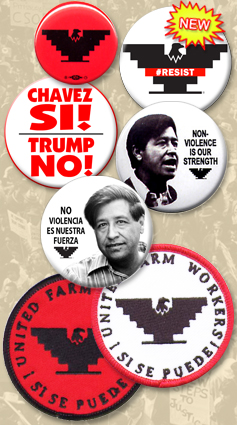 #RESIST Button
Stand with farm workers in resisting the Trump agenda.
Normally: $1.00 Special: $0.75

Caps
We tip our cap to everyone who keeps the struggle alive by marching, donating, shopping and taking action. Viva la causa!