No balloon payments needed with price cuts of 30%, 50% and more
during the Ninja Summer Clearance at UFW Store.

Outdoors: Summertime and the livin' is easy.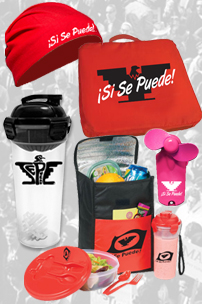 Delano Grape Strike: Huelga! In 1965 the National Farm Workers Assn. and the Agricultural Workers Organizing Committee struck the Delano grape fields, soon leading to the first grape boycott.

Mens or Womens Huelga Shirt
Wow! Your shirt is really striking.
Normal: $18
Special: $12.50
50th Anniv. Grape Strike Logo Patch 4"
Earn a merit badge in union solidarity.
Normal: $5
Special: $2.50

50th Anniv. Grape Strike Cup (16 oz., plastic, dishwasher safe)
Reusable cups and bottles help save the environment.
Normal: $2
Special: $1


More T-Shirts: Ninja Tanis deflated these prices while we were all busy watching videos on the UFW Facebook page.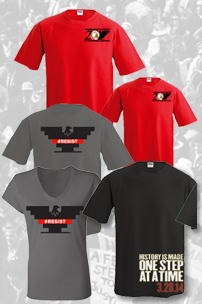 UFW Convention Tee Adult or Youth
Outfit the fam with matching shirts for you and your kids. Deep discounts to fit working families.
Adult Normal: $18
Adult Special: $5
Youth Normal: $15
Youth Special: $5
RESIST - Men or Womens Tee
Now you can #RESIST on a budget.
Normal: $25
Special: $18

Buttons: A big message in a small space.