Why to Shop at UFW Store this Holiday:
No repair bills from 9 reindeer stomping on your roof
Online shopping is more green than giving lumps of coal
Your purchase helps farm workers win good union jobs
No lines, no crowds, no parking, no temps and no ugly sweaters

Great Gift Idea: Amazing and random things you have to have right now.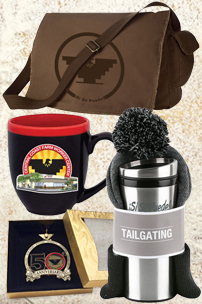 Winter Gear: Start with a warm heart, pile on the warm clothes and go make happy holiday memories to last a lifetime!

Grey Pajama Shirt
(Men's and Women's Sizes)
This soft t-shirt pairs either with jeans or as part of the PJ set. Wear it day and night if you want.
Normal: $15
Special: $12
Flannel Pajama Pants
(Men's and Women's Sizes)
Buying these pajama pants makes helping farm workers so easy you can do it in your sleep.
Normal: $30
Special: $24
Jacket w/Si Se Puede
(Men's and Women's Sizes)
The perfect light jacket for your So Cal agenda.
Normal: $50
Special: $40
Hoodie
Stay warm all eight nights of Hanukah and all winter long in our UFW eagle hoodie.
Normal: $45
Special: $36
Baby Beanies
(Blue/Pink)
Bundle up your bundle of joy in this soft and warm knit beanie.
Normal: $15
Special: $12
Adult Beanies
(Red / Burgundy / Pink)
Likely to be your warmest hat, it also provides maximum defense against snowballs.
Normal: $15
Special: $12
Umbrella(s)
Red/White and Black/White versions w/Huelga event logo Huelga eagles spead their wings to keep you dry.
Normal: $25
Special: $20

Stocking Stuffers: Even the Grinch would hang a stocking out to get gifts like these.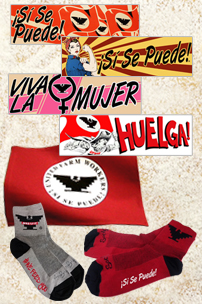 Bumper Sticker
Si Se Puede March, Huelgista, Viva La Mujer or Huelga!
These 10" x 3" bumperstickers are easy to mail to far away friends. Choose from four powerful designs.
Normal: $2
Special: $1.60
| | |
| --- | --- |
| Bumper Sticker SSP March | |
| Bumper Sticker Huelgista | |
| Bumper Sticker Viva La Mujer | |
| Bumper Sticker Huelga! | |
Flag, Display size of 16"x22"
The perfect size to collect signatures or display your button collection.
Normal: $20
Special: $16


Posters: Because bare walls make for bad selfies.